Spain international Diego Costa won't be facing Leicester alongside Chelsea squad on Saturday after a dispute with his coach over his fitness.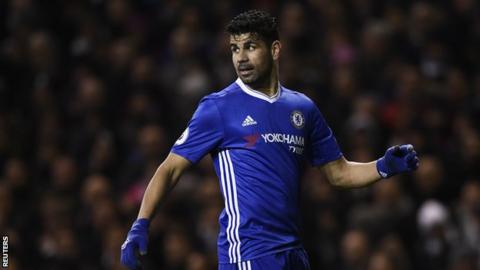 The striker has not undergone any training this week and also failed to travel for the Premier League leader's match with the defending champions.
Costa, 28, with 14 goals and 5 assists this season has an offer to move to China worth £30m a year. Chelsea refused to respond to the comment due to reasons unknown. We were made to understand that the Chelsea FC owner Roman Abramovich does not want to release him for the contract which is to expire by 2019, as he sees a better future ahead with the Spanish striker and won't subscribe to the idea of being forced to release him.
The Blues are looking forward to signing a contract extension with the Brazil-born striker after his current contract ends, but the dispute with fitness springs up new doubts about the striker. Moreover, Costa admitted he wanted to leave Chelsea last summer but made it clear he is now happy to stay and will do all it takes to give his full support to the club.
He was close to returning to his former club Atletico Madrid after he joined Chelsea FC in 2014 but made it clear to his fans it was not because of Chelsea. He made it known with clarity that he wanted to change club for some family reasons which could not later be. This made him continue happily in Chelsea FC.
After this, manager Antonio Conte, the current manager said the striker is now ready and focused on giving his club a full support and also fight a good fight for his shirt. So far, he has been one of the most outstanding stars in the Premier League this term.